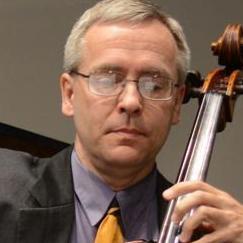 Stefan Koch joined the Lansing Symphony's Cello Section in 2000 after studying with several teachers in Philadelphia. From 2017-2022 he was the LSO's Personnel Manager.  In his previous life, he held positions as a national buyer of both books and CDs for Borders Books and Music, and he also has a Master's Degree in Philosophy from the University of Michigan. Stefan also regularly performs with other orchestras in the area, including Kalamazoo Symphony, West Michigan Symphony, Toledo Symphony, Michigan Opera Theatre, and Grand Rapids Symphony. Since 2007 has been spending his summers at the Utah Festival Opera in Logan, Utah. In 2012 Stefan undertook a series of recitals which were the first US performances of the Cello and Piano Music of the exiled Jewish Viennese composer Richard Stöhr. A CD of this music, with pianist Robert Conway, came out in August 2014 on the Toccata Classics label (London, UK). In 2018 and 2020, he released two other CDs of chamber music by the same composer on the same label.
Outside of the classical realm, he has also performed with Sarah Brightman, Anne Murray, Barbara Cook, Dionne Warwick & Burt Bacharach, Steve Lawrence & Eydie Gorme, Garrison Keillor, Dave Brubeck, The Boys Choir of Harlem, Mannheim Steamroller, Bernadette Peters, Amy Grant, the Von Trapp Family, Doc Severinsen, Earth Wind & Fire, and Julius "Dr. J." Erving. He has also contributed music to the Showtime television movie "The Staircase Murders" (2007) and the French horror film "House of Voices" (2005) and also appeared in a Toyota Highlander television commercial.
When not playing the cello, Stefan enjoys pickleball, biking, hiking, and reading, and he has visited over 100 major and minor league baseball parks. He is currently attempting to visit all 63 of America's National Parks, with 49 down and 14 to go.