Musicians
Florina Georgia Petrescu
Sponsor: April Clobes & Glen Brough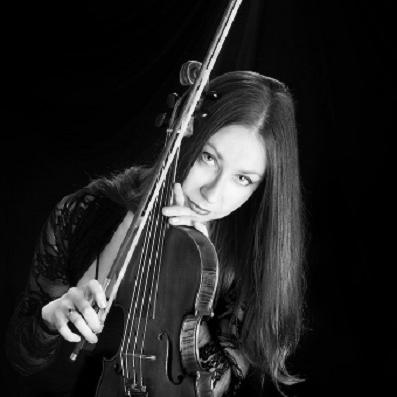 "Music is more than notes, techniques or intellectual games. Music has to express itself without filters of explanation or being classified with prejudice. " Florina Georgia Conn I have discovered violin when I was seven. At nine, I enrolled as a student at "Dinu Lipatti" Music High School in Bucharest, Romania, after which I started my journey with the piano, helping me to discover new horizons about the wonderful world of music.
Subsequent graduating high school, I attended the National University of Music, Bucharest, Romania, achieving a Bachelor Degree in Violin Performance and a Masters Degree in Chamber Music -Violin. I have performed as a first and second violinist with various orchestral ensembles (Vox Opera, Romanian Youth Orchestra, The Musical Theater "Nae Leonard" Galati, Romania, The National Theater of Operetta, Bucharest, Romania,"Dorin Teodorescu" Chamber Orchestra of National Theater House, Bucharest, Romania) having the pleasure to play as a soloist and being part of various chamber music ensembles, achieving a plethora of musical experiences within my country and abroad while being employed with Sibiu State Philharmonic. Especially pleasant and eye opening were performances I have put out with international artists, classical, folk, rock and Irish music bands. (Tagma Band and Bucium Band have a significant importance because I met extraordinary people along the way and I discovered also a creative and daring part of myself). All these allowed me to express my free spirit through what I love the most – Music.
At the end of 2014 I got married and moved to Milford, Michigan. From 2015 I play with some of the most prestigious orchestras in the State: Lansing Symphony Orchestra, Michigan Opera Theatre, Flint Symphony, Saginaw, Oakland, Rochester and others.Being able to make the notes come to life is magic. That is why, playing is for me a magical way to plant seeds of beauty, kindness and light in people's hearts.

"If we would have no soul, music would give us one" – Emil Cioran