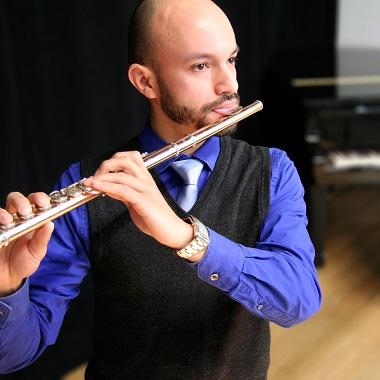 Bryan Guarnuccio holds a Doctor of Musical Arts degree from Michigan State University in Flute Performance. During his time at MSU, he served as teaching assistant for the flute studio and the theory department. He was active as principal in both the Wind Symphony and Symphony Orchestra as well as Musique 21, a contemporary music ensemble. Through the college of music, he was awarded the Kenneth G. Bloomquist Award, a Dissertation Completion Fellowship, several Graduate Travel Grants, the Leonard Falcone Scholarship, and the Stanley and Selma Hollander Endowed Scholarship for First Chair in Flute.
Prior to MSU, Dr. Guarnuccio completed his Master of Music degrees in Music Theory and Flute Performance from Bowling Green State University where he served as the flute teaching assistant in addition to teaching music theory and aural skills. He is currently adjunct faculty at Saint Xavier University in Chicago where he teaches theory courses. On the applied side, he teaches flute, piano, and oboe at Marshall Music. He also maintains a studio at the Flint Institute of Music.
As a performer, Bryan is the second flutist in the Lansing Symphony and frequently subs with the Kalamazoo, Traverse City, Jackson, and Southwest Michigan Symphonies. He is also an avid chamber musician and regularly participates in faculty chamber performances at FIM. As a member of Fresco Winds, his former woodwind quintet, he advanced in several state and regional competitions (including MTNA and Tree Tops) as well as making it to the top six wind entrants in the Fischoff National Chamber Music Competition. As a soloist, he has advanced regional and national competitions as well as winning the MSU Soloist Competition, which enabled him to perform Liebermann's Sonata for Flute and Piano at Weill Recital Hall in Carnegie Hall.