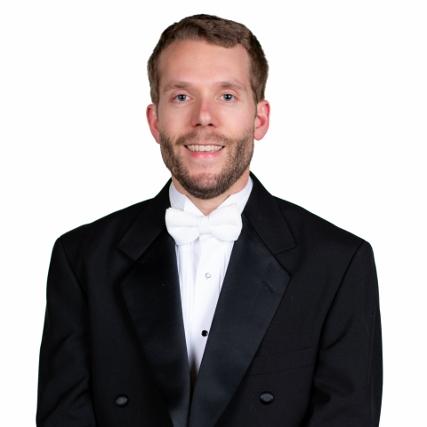 Jonathan Reed joined the Lansing Symphony Orchestra in the 2018/2019 season. Originally from St. Joseph, MI, he grew up in a musical family with both parents serving as music educators and professional musicians in Southwest Michigan. He credits his Suzuki piano lessons, bass teachers, and parents for setting him up well. He later spent 3 summers at Interlochen where he was recruited by Jack Budrow to attend Michigan State University. 
While at MSU, Jonathan was a member of the Ann Arbor, Lansing. Kalamazoo, and Southwest Michigan Symphonies. He furthered his orchestral studies by attending Rice University's Shepherd School of Music in Houston, TX to study privately with Timothy Pitts and Paul Ellison. More recently, Jonathan finished his fellowship with the New World Symphony directed by Michael Tilson Thomas in Miami Beach, FL. Jonathan has attended many prestigious summer music festivals on full or partial scholarship some of which include the Aspen Music Festival and School, Vermont Mozart Festival, Wabass Institute, Music Academy of the West, Domaine Forget, and Brevard Music Center.
Jonathan has played with the New World Symphony, Grand Rapids Symphony, Stockholm Royal Philharmonic, Royal Swedish Opera, San Antonio Symphony, and Wisconsin Chamber Orchestra among others. He is currently a member of the Grand Rapids Symphony. He has performed on orchestral tours of China, Austria, Italy, and Germany. In 2010, he performed the Vanhal Concerto in Carnegie Hall and the National Cathedral in Washington, DC as an alumnus of the St. Joseph High School Chamber Orchestra. 
Jonathan currently maintains a private bass studio in Lansing and has previously taught for the Citadel Dance and Music Center in Benton Harbor where his mother, Susan Dietrich-Reed serves as Executive Director. He also taught privately in the Cypress Fairbanks and Clear Creek school districts in Texas and served as Artist-in Residence for the St Joseph Public Schools. He is a certified Suzuki instructor and in January 2018 was invited to teach at the IberAcademy in Medellin, Columbia representing the New World Symphony. Jonathan also taught regularly at the Miami Music Project, an El Sistema inspired program, while living in Miami Beach.
Jonathan has a strong passion for early music and recently acquired a viola da gamba for which he has been taking private lessons in Ann Arbor for about a year. When not playing music, he spends his time weight lifting, running, reading, watching the NBA, and hanging out with his lovely wife Elizabeth Reed, a choir and general music teacher at Kinawa Middle School in Okemos, MI.