Lansing Symphony StudentAccess
Use code STUDENT14 for MasterWorks and STUDENT50 for Pops, Chamber, and Jazz  concerts on our ticketing site to receive the discounted student ticket price.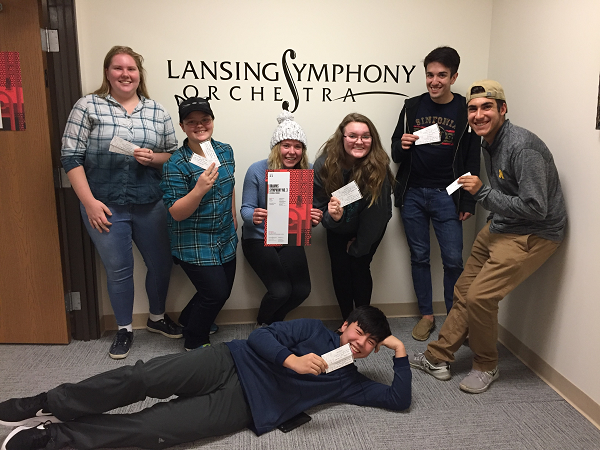 StudentAccess is Lansing Symphony Orchestra's newest education program. The program was developed to encourage youth attendance and broaden the LSO audience by lowering student ticket prices to $14 for all MasterWorks concerts and offering a Student Night event once per semester. Student Night at the LSO will include free food, fun giveaways, and interacting with guest artists, LSO musicians, and staff. 

Student Ambassadors are selected every season to lead the StudentAccess program. We are now accepting applications for Student Ambassador (see below).  
Congratulations to the following students for being selected as LSO's 2018-2019 Student Ambassadors: 
Becca Bovee
Ursula Glasmacher
Carson Green
Joey Greenburg
Laurel Pung
Philip Roragen
Sidney Sparks
Tobi Williams
Eric Yun

Student Ambassador Criteria 
•    Must be a college, high school, or middle school student in Ingham, Eaton, or Clinton county as of August 2019. 
•    Must have access to a computer and have at least one social media account (Facebook, Twitter, Tumblr, Instagram, etc.) to promote performances and events.
Student Ambassador Expectations
•    Must be willing and able to attend one meeting per month from September 2019 – May 2020.
•    Must attend and assist with both Student Night events: November 2, 2019 and January 18, 2020. 
•    Must be willing to distribute posters and brochures.
•    Be informed and able to speak about Lansing Symphony's programs (training will be provided).
•    Find new ways to engage younger audiences.
Student Ambassador Benefits
•    2 free tickets for each LSO MasterWorks concert
•    Free LSO merchandise
•    Develop leadership skills
•    Hands-on marketing experience
•    Behind the scenes insight to a well-established arts organization
How to become a Student Ambassador
•    Complete the LSO Student Ambassador Program application. A parent or legal guardian must sign for any student under the age of 18.
•    Submit a letter of recommendation from a person who is not a parent or legal guardian of the applicant (e.g., teacher, school counselor, principal, etc.) OR 2 references with contact information (name, phone number, email).
•    Submit a completed media release form. 
                                                           STUDENT AMBASSADOR APPLICATION 

We are now accepting Student Ambassador applications for the 2019-2020 season. Applications are due on Monday, August 26. 

Submit an application by mail or email
ATTN: Sal Parillo
Lansing Symphony Orchestra
104 S. Washington Sq. Ste. 300
Lansing, MI 48933

sal@lansingsymphony.org
517.487.5001
Applicants will be notified of acceptance into the program by Monday, September 2, 2019 and will be expected to attend two activities each month beginning with the orientation meeting on Monday, September 16, 2018 at 6:00 p.m. at the LSO office (104 S. Washington Sq. Ste. 300, Lansing, MI 48933). If ambassadors miss 3 events, their spot in the program will be reconsidered.